Tired of Gutters Constantly Clogging? Stay off that ladder!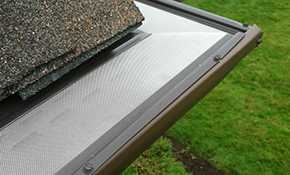 Are you tired of cleaning out your gutters? We know how frustrating it can be when it seems that you are always having to clean out your gutters. Did you know that clogged gutters can cause major damage to your home?
When rain water is not properly drained away from your foundation, it can cause hydrostatic pressure to build up and crack your foundation. If standing water freezes in your gutter, it will buckle and damage the gutter and possibly cause damage to the gutter board. Freezing water will also weaken your roof shingles and open up your home to potential leaks, moisture build up and possibly mold growth.
Save yourself thousands in repairs by replacing your worn out gutters with new seamless gutters and protecting them with the SHURFLO System!
Say goodbye to climbing ladders, cleaning gutters, and worrying about your home.  Nothing can clog this type of system, due to the unique design where only water can enter your gutters.  Even during heavy rainfall, the Shur Flo capacity exceeds U.S. record rainfall amounts.
Here is what our customers are saying about their new gutters installed by St. Louis Roofing and Renovation:
Just wanted to drop you a note to say thanks for the excellent job on our roof and gutters. We are very pleased and will recommend your company."  –Tyler  H., Grover, MO
"We love our new gutters… because they actually work. Thank you for your help. Your guys did a great job job."  –Sean S., St. Louis, MO
Call us today for a free, no pressure written estimate on your upcoming gutter project – 314-968-7848.